A breathtaking musical odyssey that explores the intrinsic relationship between humans and rivers.

From mountain high to river deep, director Jennifer Peedom follows her 2017 hit Mountain with a stunning new cine-sonic journey along the world's waterways – the arteries of our planet.
Alongside co-director Joseph Nizeti, and working again with her Mountain collaborators – narrator William Dafoe, writer Robert Macfarlane and the Australian Chamber Orchestra's Richard Tognetti – Peedom has crafted another breathtaking visual and musical odyssey, this time spanning six continents. Featuring sublime on-the-ground, aerial and satellite cinematography, this rousing, propulsive film is set to a soundtrack that includes the music of Bach, Vivaldi, Ravel and Radiohead's Jonny Greenwood, Tognetti's original compositions, and vocals by award-winning Kalkadunga musician William Barton.
RIVER journeys through time and space, spanning six continents and drawing on extraordinary contemporary photography, showing rivers on scales and from perspectives never seen before honoring the wildness of rivers but also recognizing their vulnerability.
Throughout history, rivers have shaped our landscapes and our journeys; flowed through our cultures and dreams. Its union of image, music and sparse, poetic script will create a film that is both dream-like and powerful, honouring the wildness of rivers but also recognises their vulnerability.
RIVER is a profound cinematic and musical reflection on how rivers have shaped both the planets elaborate landscapes and all human existence
NOTE: RIVER is a live, in-person viewing experience and not available for online viewing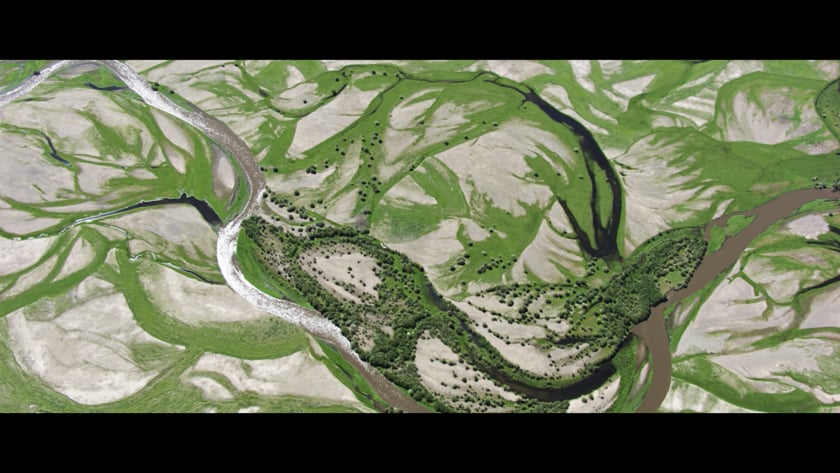 "A visually majestic, significantly airborne journey over a wide variety of rivers around the world."
"Staggering … every bit as pleasing to the ear as it is the eye"
"Peedom makes it a feast for the senses with the stunning footage she's assembled coupled with gorgeous music played by the Australian Chamber Orchestra"
Director/Writer/Producer: Jennifer Peedom
Narrator: Wiliam Dafoe
Writer: Robert MacFarlane
Co-Director/ Co-Writer: Joseph Nizeti
Producers: Jo-Anne McGowan, Jennifer Peedom and John Smithson
Australia/UK
2021
75 mins